The Cornersville Bulldogs game plan coming into Friday night's game was not to get into a scoring contest with the Fayetteville Tigers. Cornersville wanted to keep the explosive Tigers offense off the field with long physical drives and eventually wear down the Fayetteville defense in the second half. The Bulldogs game plan went just about as they had hoped. They had long drives and were certainly physical. The only issue was the Bulldogs may have underestimated Fayetteville's toughness.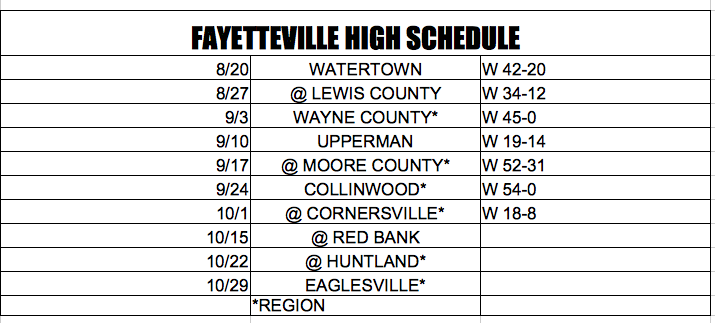 A standing-room only crowd and definite playoff feel in Cornersville, saw two top 10-ranked teams battle for first place in the region. Cornersville spent most of the first quarter with the ball, and on the Tigers side of the 50-yard line. The Tigers defense held each time and waited on the offense to show why they have been averaging 55 points in their last two games. Late in the first quarter it happened. Fayetteville running back Graham Pace broke loose on an 86-yard touchdown run and the Tigers surged ahead 6-0 after the first quarter.
The second quarter was more of the same as Cornersville controlled the clock and kept Fayetteville pinned back on their end of the field. The Bulldogs scored their only points of the game on a pick six interception touchdown on the last play of the half. Cornersville added the two-pointer and led 8-6 at the break.
Fayetteville struck back in the third quarter taking the lead when Quarterback Sam Holdmeyer found Jaterious Derrick on a 43-yard touchdown pass for a score. Fayetteville led 12-8 after the failed two-point try. Cornersville drove down to the Tigers 11-yard line to try to take the lead late in the fourth quarter, but the Fayetteville defense responded again. Graham Pace's interception inside the 5-yard line ended Cornersville's last chance to pull out the win. Aljarea Johnson later scored from 6 yards out for Fayetteville to ice the game. Cam Sheridan also stopped a Cornersville scoring threat with an interception in the endzone for Fayetteville.
Coach Kenny Morsons Tigers have shown they can win in a number of different ways.
Fayetteville can win in a shootout, as they did two weeks ago with Moore County, or they can win a low scoring physical contest as they did earlier this season against Upperman and again against Cornersville.
Fayetteville will now take a much-needed rest on their bye week before returning to the field against 4A power, the Red Bank Lions on Oct. 15. The Tigers will travel to Chattanooga for the matchup.   
"Great win tonight. A total team effort. Hats off to our defense, who got stop after stop with their backs against the goal line. Very proud of our young mens' composure in a very hostile environment." Coach Kenny Morson said after the Cornersville game. "Thanks to our community for their support at Cornersville tonight. Our side was packed and very loud. Our student body, band, cheerleaders and fans kept us motivated all night. Thanks to them."