The Times is pleased to honor its 2019 Athletes of the year. For 13 years, the EVT has recognized local high school athletes for their accolades and character both on and off the playing field.
In 2007, the first class of male and female athletes from Lincoln County High School were inducted. Since that time, The Times has added awards for Riverside Christian Academy and Fayetteville High School.
"Hard to believe another school year is nearly completed," said Paul Henry of the EVT. "Athletics brought a lot of excitement to the community during the past year. I'm proud to live in an area that steps up and supports our athletic programs, parents, booster clubs, fans and supporters. Athletics continues to bring our community together.
"The lessons learned participating in athletics makes better individuals to move on in life," he continued. "Learning there are no short cuts, it takes hard work from a group of individuals to form the bonds necessary for a team.
"Choosing our athletes has never been easy," he added. "There are many student-athletes in all the school systems that meet the criteria and are great candidates. This year the 2019 Elk Valley Times' Athletes of the Year are Lydia Johnsey and Jason Betz, Lincoln County High School; Gia Ashby and Julius Dixon, Fayetteville High School; and Ellie Hammons and Tucker Lucas from Riverside Christian academy."
The criteria established for the honor requires that the student-athlete recognizes that wearing the uniform of their high school is a privilege, carrying both responsibilities and rewards.
The athlete excels in effort, sportsmanship, leadership, participation and character; the athlete realizes he/she represents the school and community on and off the playing field.
The athlete remains in good standing and eligible during the course of the school year, based on his/her school's standards and/or standards set by the athletic department's governing body.
They may not necessarily be the best player on the team, but rather the player who best displays these qualities.
Lincoln County High School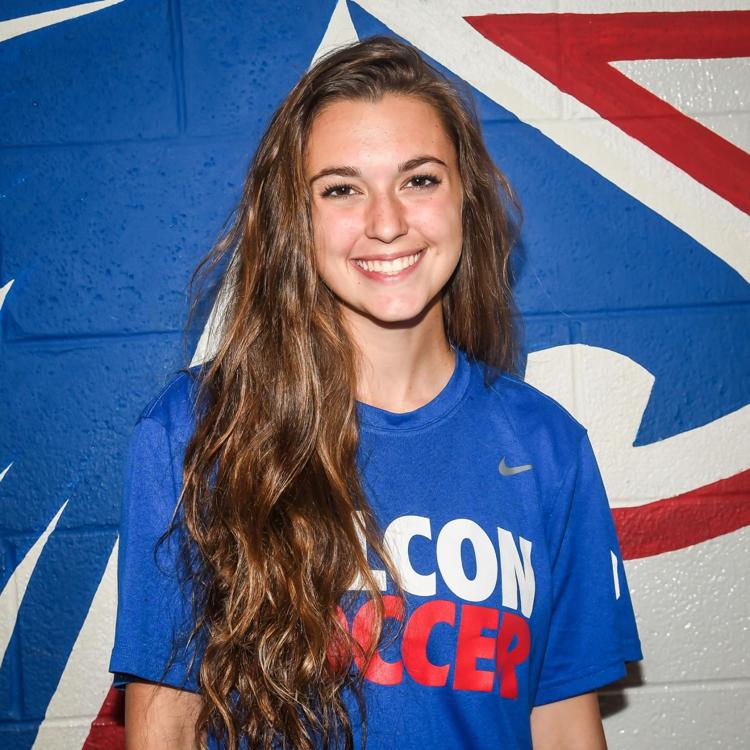 Lydia Johnsey is the fourth consecutive Lady Falcon soccer player to be honored as the Female Athlete of the Year at LCHS. Lydia also is a four-year member of the Lady Falcons' softball team.
She is the daughter of Mike and Tara Johnsey.
Lydia is ranked eighth in her class with a weighted 4.5 GPA and plans to attend Ole Miss majoring in public policy leadership and international study. She was selected as the 2018 AP Scholar, four-year LCHS National Beta Club member, Graduate with Distinction, Graduate with Honors, Tennessee Scholar, Work Ethic Distinction Award recipient, Falcon Scholar Award recipient, 2018 Region IV District 8-AAA Goal Keeper of the Year, 2018 Soccer District 8-AAA regular season champions, 2017 Softball Regional Runner-up with Sectional appearance.
"Lydia Johnsey is one of the hardest working athletes I have ever coached," said Lady Falcon soccer Coach Roger LaPlante. "Her determination to be a successful goal keeper was inspirational. Coming to us beginning her junior year, she worked relentlessly to fill big shoes of the goal keeper that was lost to graduation. Her tireless work ethic and dedication to being the best version of herself she could led her to being named 1st team All-District her junior year, and then Region 4 District 8AAA Goal Keeper of the Year in 2018.
"Lydia had such an impact on our program," LaPlante said. "Stepping in to a starting role out of nowhere and anchoring a defense ultimately resulting in two more district championship and regional semi-final births. Lydia is a tremendous young woman, accomplished in the classroom, excelling on the field of competition and actively involved in her church and volunteering her time to try and make a difference in her community. I am thankful for the opportunity I had to coach Lydia, I don't believe student athletes like her come around very often"
"It's been a pleasure coaching Lydia," said Lady Falcon softball Coach Troy Smith. "She's one of those players you never have to worry about. She always gives you her best. She has ever since she joined the team as a freshman. She's done everything we've ever asked of her.
"Academically it goes without saying," Smith continued. "She ranked eighth in her class, and I know she will take the knowledge from the classroom, combined with the lessons of being a high school athlete, and do great things."
"I've always had support from my coaches, and I want to thank them all," Lydia said. "Coaches Troy Smith, Reese Hambrick, McLean Whitt, Roger LaPlante and Susan Edwards have all pushed me to be the best I can.
"I have to thank my parents for their countless days over the past 14 years getting me to softball practice, tournaments and games -- they've always been there." she added. "I'm thankful I joined the Lady Falcon soccer team. It was a new experience for me but one I'll never forget. I couldn't have asked for better teammates while here at LCHS."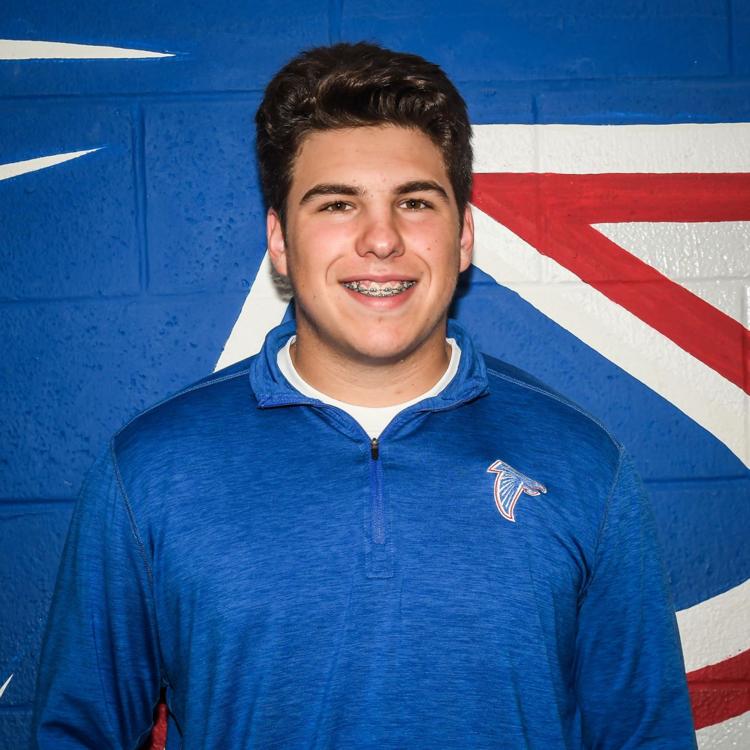 Jason Betz came to LCHS as a sophomore. He started as a junior and senior as a linebacker and defensive end for Falcon football. His senior year, he returned to the game of baseball where he was a big contributor as a designated hitter, helping the Falcons to a District 8-AAA Championship.
Jason is the son of Greg and Debbie Betz.
On the gridiron, Jason earned First Team All-Region honors where he was selected as the Defensive MVP. He was named to the All-Lakeway Team. Jason has signed with Mississippi College to continue his education as a student-athlete playing for the Choctaws, a division II program in the Gulf South Conference, He plans to study kinesiology.
"What impressed me most about Jason was his unselfish attitude, his willingness to do whatever we asked of him," said Falcon Football Coach Tim Johnson. "We needed to have a more physical player at defensive end this last season. Jason stepped into that role from linebacker without hesitation and made a big difference for us on the defensive side of the ball. He finished as one of our leading tacklers his junior and senior year.
"Jason always had a positive team attitude, very respectful, smart and tough," Johnson added. "I believe he has the potential to be a very good collegiate player based on his attitude and work ethic."
"Jason is the kind of kid you want on your team," Falcon Baseball Coach Matt Allen said. "I was hesitant at first when he tried out for the first time his senior year, but as soon as I saw him hit a baseball and got to know him, I knew he was something special. He's a team guy – the first one out of the dugout to pick up his teammates. He's got a fire. He's a competitor the other players feed on – he does it in the most unselfish way, he does it with class. He's been a big contributor to this team and its success."
"First, I have to thank my parents," Jason said. "They have always supported me at games and practice no matter when and where it was. I'm really happy I moved back here my sophomore year. I've had a great group of coaches while I was here. Coach Don Thomas and Coach Tim Johnson have made me a better player. I have to thank Coach Matt Allen for the opportunity to play baseball my senior year. I know he took a chance on me – I wanted to make the team because of my teammates. I'm lucky to swing the bat as a designated hitter."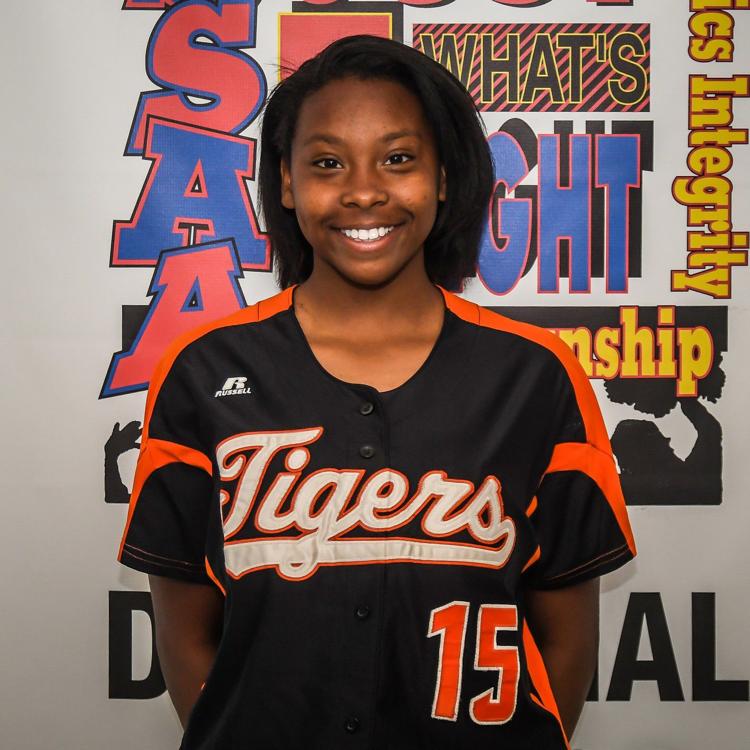 Gia Ashby returned to FHS for her senior year after transferring to Smyrna in the fifth grade. She was a big contributor to the Lady Tiger volleyball and softball teams. After graduating with honors, she plans to enlist in the U.S. Army in July as a human resources specialist, training at Fort Jackson in South Carolina.
She is the daughter of Larisha Ashby and Roger Griffin.
"I definitely wish I had her all four years," Lady Tiger softball Coach Melissa Good said. "She started center field and was our leadoff hitter. She's a leader, she hustles and keeps everyone up and motivated.
"I can't say enough good things about Gia," Good continued. "The Army got a good one, that's for sure. She will succeed in anything she decides to pursue."
"I always wanted to come back here and graduate," Gia said. "I've got a lot of family here. I guess Fayetteville is where we're all originally from.
"I very much appreciate the open arms of my coaches and teammates. They made me feel a part of their programs. It's like I never moved away, and I appreciate, too, my family and friends for all their support.
"I especially want to thank Sgt. Nowak here at Fayetteville High School. He's been a positive influence for me and helped me be prepared for the military."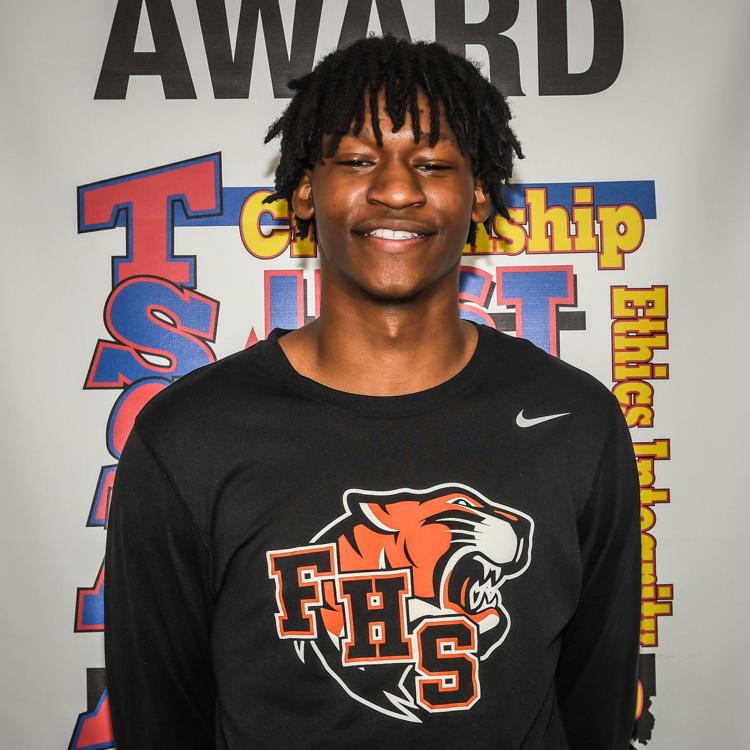 Julius Dixon has been a standout on the hardwood since he transferred to FHS a year and a half ago. In that time, he reached the 1,000-point scoring mark and won numerous All-District and All-Region honors, in addition to leading the Tigers to their first-ever State Tournament appearance.
He is the son of Kevin and Cyndy Dixon.
In the 2018-19 season, Julius led the Tigers in scoring with 746 points, shooting 38.4 percent from the arc on 124 of 323 attempts.
Julius has signed to continue his education as a student-athlete, playing basketball at Morehead State University, where he will pursue a degree in business management.
"Julius has been a great player to coach for his time at Fayetteville High School," said Tiger Basketball Coach Chris Murdock. "He is every coach's dream. He works hard in the gym on his individual skills, he is a great teammate, and his hard work excels in the games.
"He is also a great student who scored a 24 on his ACT and has been on the honor roll at FHS," Murdock added. "Julius has a great family who supports him, and there is no secret to why he has earned a full scholarship to attend/play basketball at NCAA Division I Morehead State University next year. I will miss Julius at FHS but look forward to following his success in the future at Morehead State."
"I want to thank God for the opportunity he's given me and for giving me parents who have stuck with me," Julius said. "I appreciate Fayetteville High School and the administration for welcoming me with open arms.
"Our student body's support was great all year," he added. "You have no idea how much it helps to hear the crowd when the game is exciting.
"I have to say a special thank you to Coach Murdock and his wife, Jennifer," he added. "They have gone out of their way in welcoming us into their home to bring us together as a team."
Riverside Christian Academy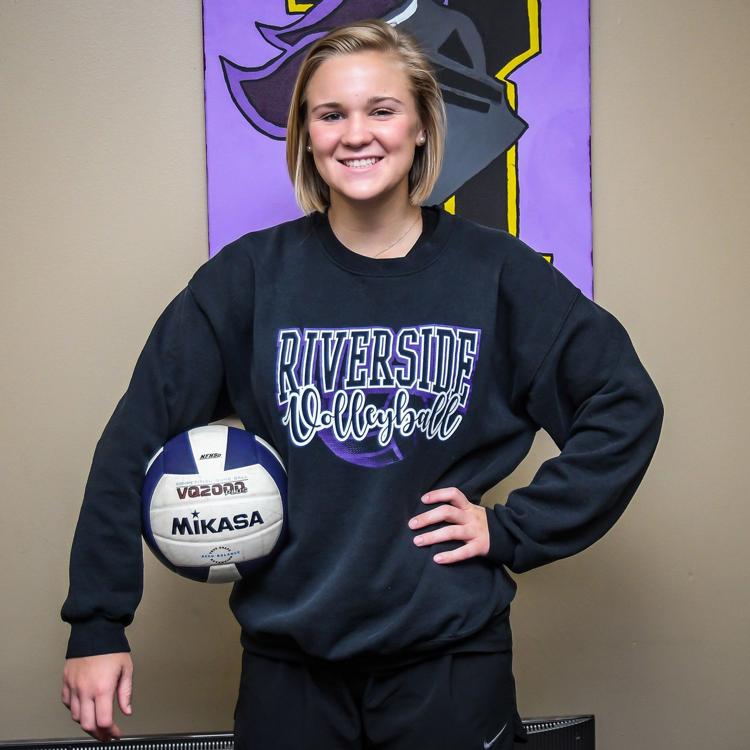 As a senior, Ellie Hammons is the product of RCA, having started 16 years ago. Ellie excelled in both volleyball and tennis while playing for the Lady Knights, winning four MTAC volleyball and two tennis championships.
She is the daughter of Keith and Liz Hammons.
Ellie graduates RCA with a 4.0 GPA and plans to attend the University of Tennessee in Knoxville and major in pre-med.
"Ellie has been a starter on the varsity volleyball team for four years," said RCA Coach Patty Wright. "She is very athletic and has played nearly every position on the court. Ellie has contributed greatly to our program with her strong presence on the front row as a hitter and her powerful serve. She is quick on her feet, which makes her very effective on defense in the back row.
"Ellie has been a great leader on our team and works hard on and off of the court," Wright continued. "She has played through injuries and always gives her best to the team. Ellie has received numerous awards, including MTAC All-Conference Team, MTAC All-Tournament team, Best Hitter and Best Server awards to name a few. Ellie has been a pleasure to coach, because she has a great attitude, works hard and has fun on the court."
"RCA has been a good experience for me," Ellie said. "It's a Christian atmosphere, and my teachers have always been supportive. Most of all, the teams I've played for feel like family. Some of us have been together a long time – I wouldn't be where I am today without them.
"I have to thank my parents," she added. "They've supported me, taking me to practice, tournaments and games for a lot of years. I don't tell them enough how much they're appreciated.
"Also my coaches, Coach Eddie Mincher for teaching me to love volleyball and Coach Patty Wright for always being there – she could give me confidence when I needed it most."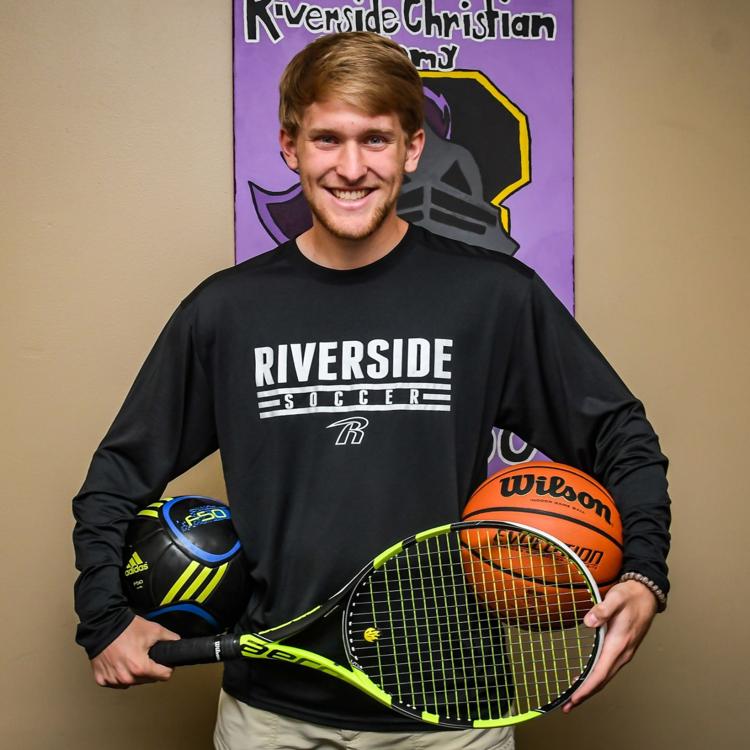 Tucker Lucas is also a long-term product of RCA, having enrolled 16 years ago. He has been a standout at basketball, soccer and tennis.
While playing varsity for the Knights, Tucker and his teammates captured two MTAC Championships in tennis and one in soccer.
With a 4.0 GPA, he plans to attend the University of Alabama in Huntsville with a degree in accounting.
He is the son of Matt and Linda Lucas.
"Tucker is a great example of a Christian athlete," said Basketball and Tennis Coach Troy Slone. "He is an excellent team leader on and off the court. He finished his career with over 1,000 points this year, averaging 20.8 per game.
"Tucker is also a gifted tennis player and won over 95 percent of his matches in his career," he added. "Tucker is one of the most successful athletes to ever come out of RCA, excelling in three sports."
"My time at RCA has been great," Tucker said. "It's a family atmosphere; we're all friends. I appreciate the opportunities I've been given here and the understanding of teachers of a high school athlete.
"I want to thank my coaches through the years for teaching me to love the game and to my parents for their constant support."