Building on offerings to the community, Fayetteville Parks and Recreation will soon have a nine-hole disc golf course available for the public's enjoyment – similar to regular golf, the sport sees players using golf discs and aiming for a golf basket instead of using golf clubs and aiming for a hole.
"If everything goes as planned, we'll have our nine-hole disc golf course set up at Don Davidson Lions Club Complex in about three weeks," said Chris Mitchell, director of parks and recreation, during Tuesday's meeting of the Board of Mayor and Aldermen.
The course, located behind the parking lot at the complex, is being built by volunteers, Mitchell noted after the meeting. The object of the game is to finish each hole with the fewest throws, starting from a tee area and finishing at the disc golf basket.
Mitchell highlighted the department's current activities during his monthly report last week, noting that Tuesday and Thursday night fitness classes have also gotten underway at the recreation center and youth baseball and softball signups will begin there on Feb. 2.
He also reported that the coordinator's position, created last fall by the City Board, will be filled by Andrew Kelso, who'll assume duties Feb. 11. "I think he'll be a valuable asset to the recreation center, because he's being doing that same job for about the last 15 years," he said.
Equipment has been ordered to make the second round of needed repairs at KidsPark, he continued, noting that work is expected to begin in about a month.
He also thanked everyone for their participation in the department's first Bright Lights and Festive Nights display at Stone Bridge Park where local businesses and organizations decorated Christmas trees for the community to enjoy throughout the holidays.
"The lights down at Stone Bridge Park were a big hit," said Mayor Michael Whisenant, adding that the city had received a lot of positive comments. "I was talking to another city employee and there are ideas to expand it further next year, so we look forward to that."
Among other reports made to the Board of Mayor and Aldermen during the meeting were those of Britt Dye of Fayetteville Public Utilities, Dr. Janine Wilson of Fayetteville City Schools, City Administrator Scott Collins and Eddie Plunkett of Public Works and Kristi Gentry of Planning and Codes.
In addition to ongoing work to increase the voltage capacity in rural western Lincoln County and tree trimming work in and around the city, Dye went on to note that the department is preparing to do some more water and wastewater improvements along Morgan, Belleview, Swanson, Scenic and Hatcher streets. To better meet increasing demands on the telecom side, he noted that the system is in the process of upping its bandwidth.
A gas line rupture in east Tennessee has impacted the system, he said, noting that while the repairs have been made, capacity is still not at 100 percent. After the winter heating peak period passes, additional repairs and analysis are expected to take place.
In regard to the AMI conversion to smart meters, Dye noted that the conversions are nearly complete on the electric side, 96 percent on the gas side and 50 to 60 percent on the water side. The conversions are already saving the system significantly, with trucks not having to roll to do certain types of work, work that can be done from FPU's offices.
Wilson highlighted city schools' recent significant events, noting that more than 130 students have signed up for junior pro basketball at Ralph Askins and third graders will begin a Great Shapes soft skills programs.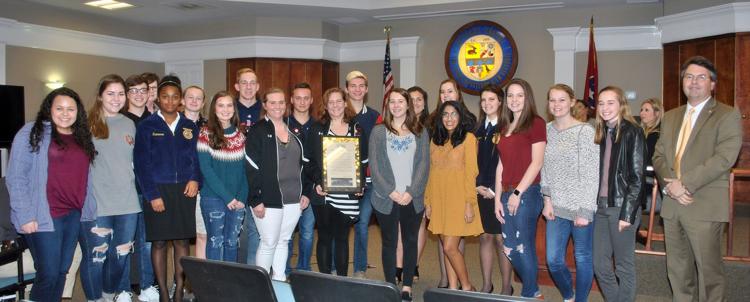 Additionally, Fayetteville Middle School is hosting its first TMSAA Southeastern Basketball Tournament this week – "One of the reasons that's exciting is that we will be participating with a lot of the county schools for the first time," she said, going on to note that the middle schoolers also held a drive that collected 193 blankets and stuffed animals for foster children in Lincoln, Bedford and Moore counties.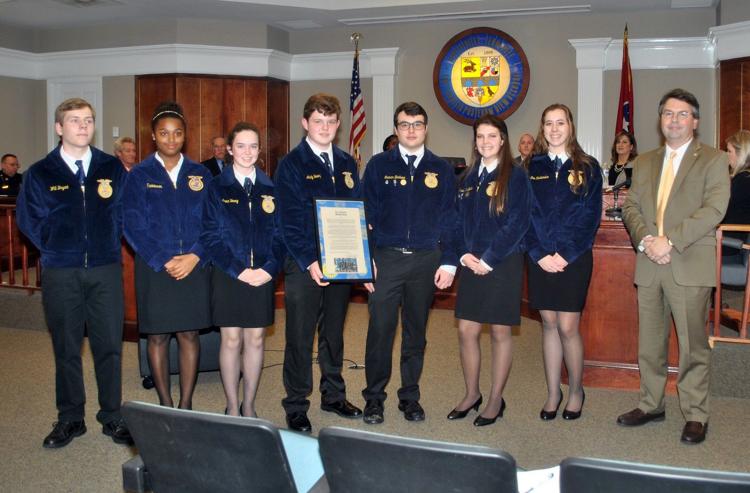 Two new students have joined the 30 Plus ACT members at Fayetteville High School where Coach Murdock has just gotten his 100th win in basketball. Victor E., the school's mascot, was part of the Citrus Bowl Parade, and the school's band will be performing in the parade at Disney's Magic Kingdom later this month. James Morson from Decatur High will be the school's new football coach. Wilson also shared with the board a video done by the FHS Beta Club, which garnered it a third-place win in state competition. Thirty-two high school students are participating in a peer mentoring program with elementary and middle school students.
The school system also received a $42,000 state Read to be Ready grant for a summer reading program at Askins School, she added.
Collins reported that pre-bid conference is set for Jan. 17 and bid opening for Feb. 6 on Phase I of the city's Greenway Project, while plans for Phase II were expected to be submitted to the state Department of Transportation on Jan. 11.
Plans were also expected to be submitted Friday to TDOT for improvements to William D. Jones Boulevard, he said, adding that the City Board's strategic planning session has been scheduled for Feb. 23.
In Plunkett's report on sanitation and public works, he noted that Jan. 21, Martin Luther King, Jr., Day, is a holiday and that trash collection for both that Monday and Tuesday will be done on that Tuesday. He asked that residents have their trash cans out the night before. It's also a good idea, he said, to have cans out the preceding night in situations of bad weather – "If we have bad weather or icy conditions, we may reverse our schedules," he said.
Planning and Codes' Kristi Gentry recognized Emad Alaweneh, the city's building inspector, has received his residential plumbing certification and noted that Lenace Vaughn, property maintenance inspector, coordinated with FHS art teacher Amber Self and her advanced art class on a project to repaint the city limit signs on the four major highways coming into town. 
In other business, the mayor swore in Danny T. Bryant as a new police officer, and board members gave their approval to the following:
Resolutions honoring FHS's FFA Chapter and Beta Club on each of their recent achievements.
Budget amendment for $17,500 related to the geographic information system mapping program utilized jointly by the city and county.
Fayetteville City School System budget amendment to accommodate the receipt of the city's portion of the county's recent bond issue for schools.
Emergency expenditure of $6,686 to repair a fire engine.
A $4,793 expenditure for the purchase of equipment from Keep America Beautiful which formerly operated the recycling center.
Adopted the new floodplain ordinance, regulating development in flood-prone areas.
Reappointed Pat Haynes to the Board of Zoning Appeals.
Appointed Dan Holt to the Airport Authority.