Lincoln County's Debra Smith is on a mission to prevent other families from experiencing the heartbreak her family suffered with the needless loss of a loved one from sepsis.
In April of last year, Debra's husband, John Smith, vice president of operations for Franke in Fayetteville, passed away suddenly as a result of sepsis. His death, Debra believes, could have been avoided had medical professionals recognized the signs of sepsis sooner.
"Because the hospital did not recognize the signs and did not react fast enough, my husband died of sepsis," Debra said in a video played before Friday's "Think Sepsis First" conference held at Motlow College's Moore County campus.
The conference, which is expected to continue each year, was born out of the Smith family's grief and frustration that awareness of sepsis — a life-threatening condition that arises when the body's response to infection causes injury to its own tissues and organs — is not common even among healthcare providers.
"The whole time John was in the hospital, even in ICU, we never heard the word sepsis or understood what sepsis was," said Emmylou Porter, Debra's daughter.
"By the time my dad started showing signs of what we now know was sepsis, it was just a matter of one day," said Amanda Smith, John's daughter. "One day was all it took for him to take such a hard decline that we didn't know that we would never be able to speak to him again."
Like many caregivers in similar situations, Debra knew something was terribly wrong just days after John had undergone a surgical procedure; she just did not know what. She and her family were not aware of sepsis and its symptoms.
"My pleas were ignored," said Debra, "and had they called the doctor or called a hospitalist, possibly somebody would've said, 'Hey, this is sepsis. Let's respond quickly'."
After John's passing, Debra and her family were determined to not let his death be in vain.
"After this heartbreaking event for our family, it was clear to me that awareness of sepsis is not common, even among healthcare providers. The number one killer of hospital patients is not common knowledge," said Debra. "We didn't know that it killed more people than breast cancer, prostate cancer and AIDS combined. When you ask people what sepsis is, they typically think it is an older person's disease. But, the facts are that it is also the number one killer of children, and anyone with an infection can get sepsis."
Debra, who works for Motlow College, approached the college's dean of nursing and allied health, Pat Hendrix, with the idea for increasing awareness through allied health scholarships. Hendrix immediately responded with an idea for a conference to specifically provide sepsis education. Through Hendrix's leadership and direction, a committee of Motlow nursing faculty and staff was assembled, and the conference idea became a reality.
Last week, some 350 gathered at Motlow to hear from experts and have a panel discussion to help raise awareness to "Think Sepsis First", the title of the conference.
"Today is important," Hendrix said in opening the conference Friday, observed as World Sepsis Day. "We start today changing the culture, increasing our awareness, becoming the advocate to making a difference, changing a statistic, saving a life."
"Sepsis is not something that is a distant issue," said Friday's keynote speaker, Dr. Pratik Pandharipande, professor of anesthesiology and surgery at Vanderbilt University. "It's something that every one of us is going to face in our lifetime, either with friends, family, a loved one or a patient.
"If you look at the global burden of sepsis, 27 million patients across the globe develop sepsis," he said, noting that sepsis is the largest worldwide killer of hospitalized patients. And, while about 19 million survive, many of those survivors may face lifelong complications, he noted.
"About 1.7 million in the United States will come to a hospital system for sepsis," Pandharipande said, noting that sepsis represents the number one cost of hospitalization in the U.S. at approximately $27 billion per year. Sepsis is also the leading cause of readmission.
"The good part is that as medicine has advanced, the mortality associated with sepsis is reduced," he said, noting that a patient's probability of surviving sepsis is about 60 percent higher than just 10 years ago. "We've made significant improvements in medical care and diagnosis and identification."
Although survival rates are higher, the doctor said, many patients experience lifelong problems. Annually, about 3.5 million people survive a critical illness in the U.S.
"Fifty to 70 percent of patients who survive a critical illness, including sepsis, have cognitive impairment to prevent them from going back to the same quality of life that they were enjoying previously," he said, referencing a study that indicated only about 45 percent of the 821 patients in the study who previously worked full time returned to full-time employment status a year after their illness. "Sixty to 80 percent of the patients had functional impairment which results in some disability.
"These are patients who needed to go back to work and were unable to go back to work because of cognitive impairment or other issues," he said, noting the average age of the patients in the study was 55 years old.
"One of the biggest challenges for us in surviving sepsis and critical illness is survivorship," he said, "returning patients back to family, back to their hobbies and back to work.
"Our responsibility does not end with just getting our patients out of the ICU," he said. "We need to get them back to the same quality of life, back to the same person that they had been before."
According to Pandharipande, 87 percent of sepsis is out in the community — "It's not something that first happens in the hospital," he said. "These patients are coming from the community, and we have to use these signs to recognize it."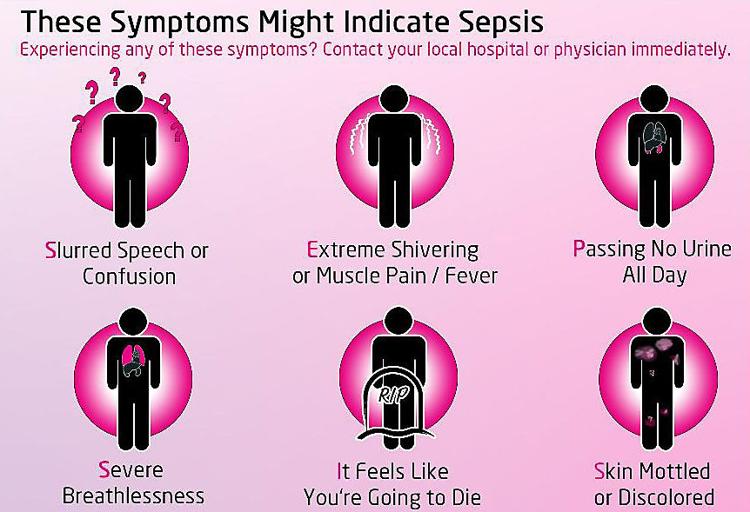 The signs, the doctor said, are as follows, and can be remembered as a mnemonic, which spells out sepsis: slurred speech or confusion; extreme shivering or muscle pan/fever; passing no urine all day; severe breathlessness; it feels like you're going to die; and skin mottled or discolored.
"The burden is significant, not only on the patient who survives but also on the caregivers," Pandharipande said. "Our goal as health care providers is to make sure we get them to survive and actually get back to their families, their hobbies and their work.
"Unless we are thinking about this up front, and we're thinking about major illnesses as sepsis up front, we're going to lose this battle."