Ashby Farm, located on Gimlet Road near the Booneville and Mulberry communities, is one of 53-certified Century Farms in Lincoln County.
The farm, owned by Curtis and Ruth Ashby, recently received signage recognizing its more than 200-years of continuous agricultural production as a Century Farm.
The Tennessee Century Farms Program was created in 1975 by the Tennessee Department of Agriculture as part of the nation's bicentennial celebration. In 1985, the Center for Historic Preservation at Middle Tennessee State University assumed the responsibility of the program.
The Ashbys were set to receive recognition in 2019; however, the COVID-19 pandemic delayed the process until recently.
The farm was started in 1819, according to Curtis, who said its history spans eight generations.
Though the current farm includes more than 380 acres, only about 50 of those acres have remained in the direct Ashby lineage for more than 200 years.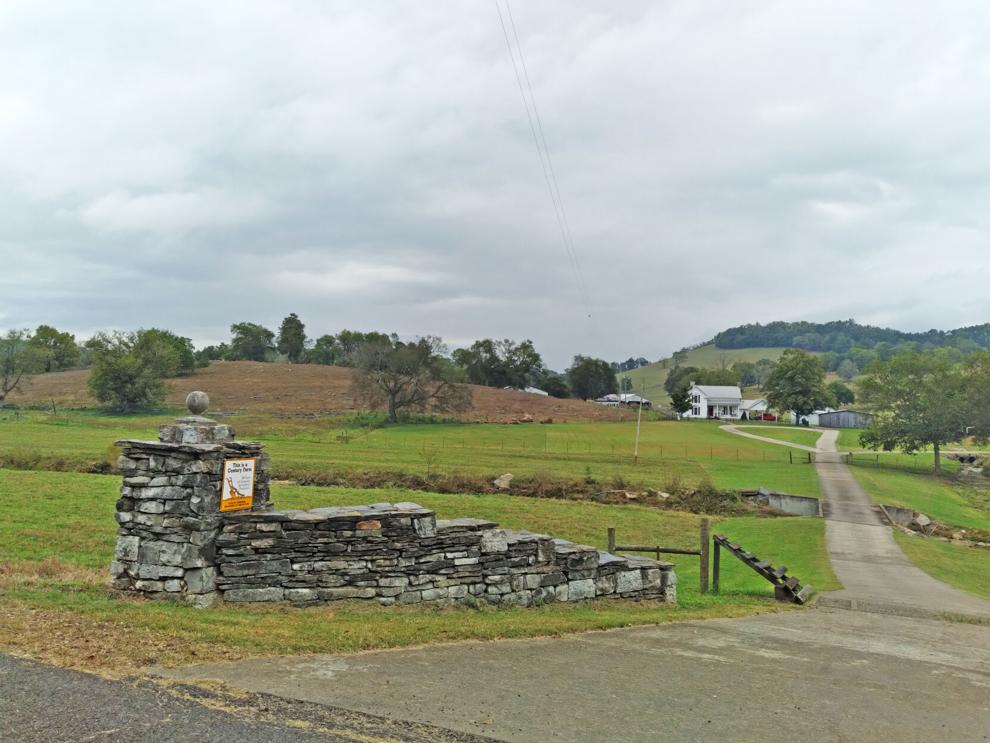 The farm was started by Curtis' great-great-great grandfather Travis Ashby and was followed by his great-great-grandfather William Ashby; great-grandfather, Homer Ashby; grandfather Asbury Ashby and father Leonard Ashby. Curtis and Ruth live on the farmland today along with Curtis' son, Matt Ashby, and their grandchildren, who make up the eighth generation.
Curtis and Ruth currently live in the property's largest home, which was built in 1854. Though some of the home has been updated, it still contains much of the original craftsmanship of more than 150 years ago.
When Curtis was a child, he and his family lived in another house that still stands in the holler on the property, and his uncle's family lived in another house. A tenant also lived on the farm. Curtis' grandfather lived in the big house where he and his wife live today. Curtis said back in those days everything was tended to by horses and mules and a man couldn't manage too many acres alone.
"I remark that I'm back in the old house to die," Curtis said.
His remark isn't meant to be morbid. Rather, he explained when it comes to his lineage only two family members have not died in the old home place.
Curtis' great-grandfather died in Mulberry and his great-great grandfather died in Corinth, Mississippi. Curtis said he went to Corinth during the Civil War for the Battle of Shiloh, but by the time he arrived the war was over. He remained in Mississippi but did not see any action before dying of disease.
There is a family cemetery on the Ashby property, where about 100 relatives were buried before nearing capacity. Curtis said his grandfather was one the first in the lineage to be buried in Booneville.
The farm's acreage was used for general farming for many years, according to Curtis.
"In the early years, it revolved around the corn crop," he said, adding corn was raised to feed hogs, a few milk cows and horses.
In the 1930s, the farm was used for milking cows and tobacco was also raised.
"About the time I left for school, we quit milking cows and everything turned to beef cattle," Curtis said.
The farm, which is still made up of beef cattle and several goats, is managed by Mennonite Raymond Sommers.
Curtis said it wasn't too difficult to get the Century Farm certified.
"My dad was kind of a local historian," he said. "He enjoyed the history of the land and the people around here. He pretty much told me the history. When I got ready to start documenting it, it wasn't that much of a problem."
Ashby Farm was first recognized as a Century Farm in 2004, but it was just recently recognized as a 200-year-old Century Farm.
"I was interested in the history of land and the community too," Curtis said. "It's all changed so much now. My grandchildren can't imagine how this farm was when I grew up."
Curtis reminisced about an old log barn, where a newer barn now stands. The log barn was where the mules and horses were housed.
"I can remember waking up as a young boy and hearing the mules braying," he said. "I lived in the holler. We didn't have air conditioning and the windows would be open. Boy, you could hear those old mules a braying."
Curtis also remembers hog killings. He said the men would drive up several hogs and everyone on the farm would be working and rendering lard.
There was always a large garden too, according to Curtis.
"Even when I was a kid, we didn't buy a whole lot at the store; we would raise a huge garden and can everything," he said. "We preserved it to eat all winter."
Curtis said they also raised a lot of chickens and would gather the eggs, carry them to town to sell them in all the "Mom and Pop" grocery stores.
About the only things Curtis remembers buying at the store was salt, pepper, flour, corn meal, sugar and syrup.
He still envisions the farm of his youth.
"One of the sounds I can still hear just as clearly — of course, my children and grandchildren wouldn't have any idea about it — is an old steel-tire wagon," he said, adding he can imagine it going over rocks and crushing gravel. "You just don't forget it. Well, I know I haven't."
When the Ashbys received their 200-year Century Farm recognition, Lincoln County Mayor Bill Newman helped with the presentation. 
"It's always good to see when assets in the community stay in a family for a long period of time," Newman said. "I think it's a statement on the stability of the community. We are so proud of the Ashby family and their farm, and for all that the Ashby family has done for Lincoln County and our community over the long number of years that they have been here.