The 57th Annual Lynchburg Frontier Days is almost here.
Three nights and one entire day of family fun is set to begin Thursday, June 20, and continue June 21 and 22. Fifteen dollar arm bands will be available from 5 to 10 p.m. every night. Fox Creek Amusement returns again this year with rides and games for all ages. New to the rides this year is the Himalayan, guaranteed to get your heart pumping.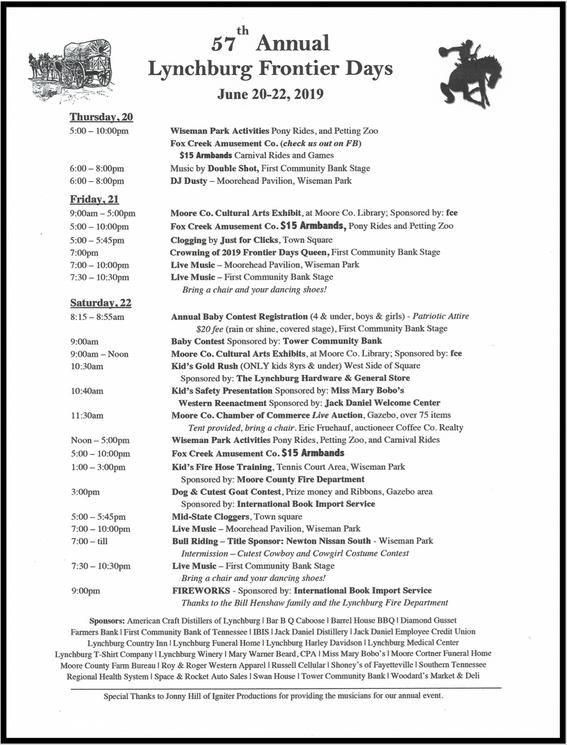 Jonny Hill of Igniter Productions will provide music throughout the weekend, both on the square and in the park. DJ Dusty will be providing the upbeat sounds in Moorehead Pavilion on Thursday from 6 to 8 p.m.
All the old favorites are still on tap: pony rides and a petting zoo all three days in the park. Friday, the crowning of the Frontier Days Queen starts at 7 p.m. on the First Community Bank Stage. Saturday begins at 8:15 a.m. with the Baby Contest (patriotic theme please), followed by the Kids Goldrush (8 and under) at 10:30 a.m. on the west side of the square. River Chase Posse starts at 10:40 a.m. on the town square. A Kids' Fire Hose Training will be held at the tennis court from 1 until 3 p.m., and of course, the Cutest Dog and Cutest Goat Contest will be held at the Gazebo starting at 3 p.m.
At 11:30 a.m. on Saturday at the Gazebo, the Moore County Chamber of Commerce will once again hold its annual Frontier Days Auction. Over 75 items have been donated for this special event. Be sure to bring your chair. A tent will be provided.
The Moore County Cultural Arts Exhibit, sponsored by FCE, kicks off at the Moore County Library on Friday, running from 9 a.m. to 5 p.m. This great exhibit will reopen on Saturday at 9 a.m., closing at noon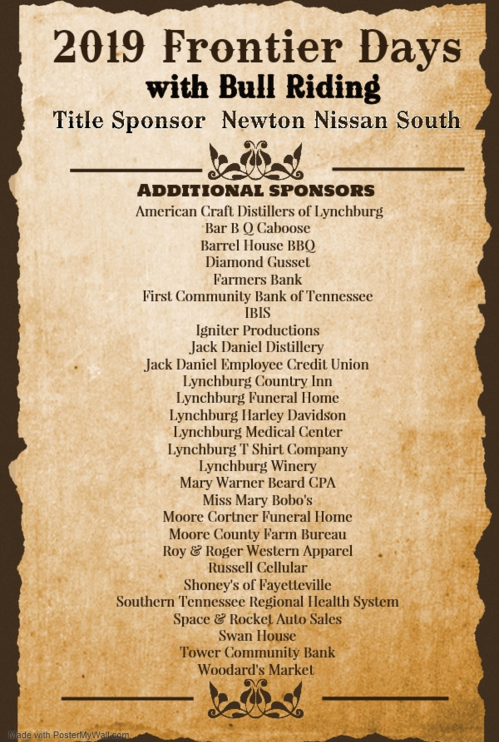 New this year is professional and amateur bull riding starting at 7 p.m., Saturday, June 22, in Wiseman Park. At intermission, there will be a contest for the cutest cowboy and cowgirl, 12 years old and under. Presale tickets, $2 off, are currently on available at Lynchburg Winery, Lynchburg Harley Davidson and Diamond Gusset.
This three-night, one-day extravaganza will be capped off by a colorful fireworks display, starting at 9 p.m.
Beginning late Friday afternoon and all day Saturday, there will be no access to the square at the traffic light or by the post office. The square can be reached from both directions on Main Street and can be exited at the traffic light or on Main Street.
A full schedule of events can be found online at www.lynchburgtn.com. In addition, special Frontier Days carnival coupons are available on the website.